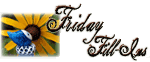 Hosted by Janet of
Fond of Snape
at
Its Own Home
.
Janet's friend Michelle helped with this week's questions.
1. When I'm sick, I'm
hopefully in bed getting the rest I need
.
2. When I take a walk, I think about
a lot of things, and I listen to my iPod Shuffle too
.
3. Money can't buy happiness, but it can
buy fleeting moments of pleasure
.
4. Cotton makes me
think of summer
, and leather makes me
think of shoes
.
5. The strangest person/character I've had lewd thoughts about [is]
"confidential information"
.
6. My favorite color these days is
pink
because
it has been my favorite color for years and I don't see any reason to change it
.
7. And as for the weekend, tonight I'm looking forward to
watching some Stargate: Atlantis on DVD
, tomorrow my plans include
spending several hours at the office
, and Sunday, I want to
make sure we're prepared for the extended family birthday celebration that my family is hosting on Monday
!